Good Practice Guide: Waterproof decks and balconies
This guide focuses on the 'good' design, specification and construction requirements for all types of waterproof decks and balconies (Building Code, structure, substrate, membrane and walk-on surface) to residential buildings (stand-alone houes, townhouses, apartments and so on) to ensure such decks will be serviceable over the life of the building.
Good Practice Guide: Texture-coated claddings (3rd edition)
Exterior insulation and finish systems (EIFS) and flush-finished texture-coated fibre-cement claddings have figured prominently in leaky building statistics. Failures were attributed to poor detailing and workmanship that come from an incomplete understanding of the limitations of these systems and knowledge of what constitutes good practice. 
Designers, contractors and regulators can refer to this publication for the information they need for good design and correct detailing and recommended on-site construction practices.
This guide covers:
systems in general terms and the performance, design and specification requirements for texture-coated claddings
EIFS
fibre-cement
masonry veneer
concrete and concrete masonry
lightweight concrete/autoclaved aerated cement.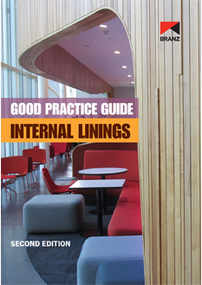 Good Practice Guide: Internal linings (2nd edition)
Specifying and fixing internal linings demands a high degree of skill to ensure that the finished installation will perform in the environment the internal linings are installed in and meet the end user's expectations. There is a wide range of internal lining materials available, and there is often a gap between what is expected of particular lining materials and what is achievable given the construction methods being used. 
This guide covers most current wall and ceiling lining applications including lining selection, support systems and fixings. It sets out the requirements and installation processes for all aspects of lining installtion so that realistic finish quality levels can be set and the completed installation achieves the expected quality level. It does not cover the selection and installation of suspended ceiling systems. 
The audience is designers and specifiers, builders, partition installers, lining installers, stopping contractors, building officials, building owners and students of design and construction.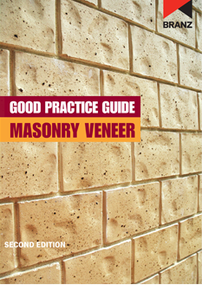 Good Practice Guide: Masonry veneer (2nd edition)
Around 35% of homes in New Zealand have masonry veneer cladding (clay brick, concrete brick and concrete block). It has proven weathertightness, is solid, hardwearing and low maintenance. 
Packed with numerous photos and figures, this guide provides good-practice solutions for masonry veneer design and construction along with wall ties, structural frame, foundations and cavity requirements.
This guide is an essential resource for any architect, designer, mason, builder and related trade, building consent authority, tertiary tutor, student and apprentice.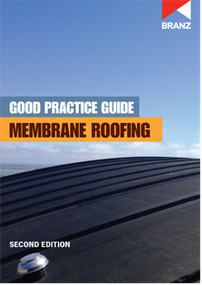 Good Practice Guide: Membrane roofing (2nd edition)
Membrane roofing systems come in a wide variety of types, each with their own substrate and installation requirements. Achieving a durable membrane roofing system depends on using the correct approach to the design of the substrate supporting the membrane and the membrane roofing itself. Using the correct membrane roofing system for the substrate, the slope, the use the roof will be put to and the aesthetic requirements of the building owner are also key requirements.
Written specifically for the New Zealand building industry, this guide covers the issues that need to be considered when selecting, designing, detailing and installing membrane roofing systems. Following the procedures outlined should significantly reduce the risk of problems occurring with membrane roofing.
This is an essential reference tool for all those involved in the selection, design or installation of a membrane roofing system.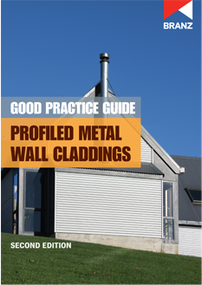 Good Practice Guide: Profiled metal wall claddings (2nd edition)
This guide gives an overview of the issues to be considered when selecting, designing, detailing and installing profiled metal wall cladding systems. It identifies where and why problems are likely to occur and what care is needed to avoid potential problems. It emphasises the fact that the profiled metal sheets are just one part of the wall cladding system required to manage air and water penetration. 
To satisfy New Zealand Building Code and owners' expectations for performance in all conditions, profiled metal claddings require the correct design and installation of the whole cladding system comprising cladding (profile and orientation), cavities, cladding underlays, air barriers, all associated fasteners and flashings
The intended audience for this guide includes architects, designers, cladding and building trades, building consent authorities, tertiary tutors and apprentices.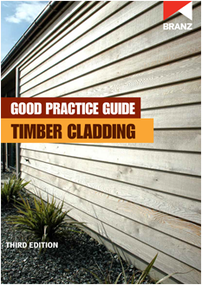 Good Practice Guide: Timber cladding (3rd edition)
Timber cladding materials and skills needed for building and installation of traditional claddings have changed over the years. The conditions for building new timber-clad buildings have also changed over the years. Sites that would have earlier been avoided are now being built on, and buildings are also larger and more complex.
Other factors, such as weathertightness issues, have become more relevant. Designers have to consider carefully how they will achieve weathertight cladding solutions when traditional materials are being employed to satisfy homeowners' demands for complex buildings on more exposed sites.
This guide gives a comprehensive overview of the issues to be addressed by designers and installers of timber weatherboard and plywood sheet claddings.
Good Practice Guide: Tiling (3rd edition)
This guide contains practical easy-to-read information with extensive use of photographs and illustrations. Its emphasis is primarily on the design and construction principles that need to be followed to ensure that the finished tiled surface is of a high quality. None of the components of a tiled finish - framing, substrate, waterproofing, adhesive, grout or tiles - can be considered in isolation from one other.
Included in this guide are sections that describe the performance requirements for tiled finishes, the materials that make a tiled finish, substrate materials and their installation, how to deal with movement, the design and construction of internal and external wet areas and specification for adhesives, tile installation, grouting and maintenance. Swimming pools, heated floors and tile sealing are all briefly covered. Another section deals with the various types of tiles available and provides guidance on selection of tiles for specific areas.
This is an essential reference for designers, specifiers, waterproofing applicators, tilers, building officials, students and building owners who wish to have a greater understanding of what makes a successful tiling installation.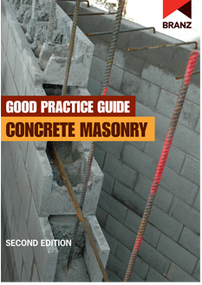 Good Practice Guide: Concrete masonry (2nd edition)
Single-skin masonry construction has a small but significant share of the New Zealand construction industry. It is seen as a robust construction system where the structural and weathertightness functions of a wall are carried out by a single construction element.
The guide covers performance requirements, design and detailing requirements, material selection, good construction practices, weathertightness and maintenance. It is well illustrated with photographs and three-dimensional drawings to explain the requirements of single-skin masonry from initial design requirements through to the weatherproof coating options.
This guide is an essential reference for designers and specifiers, masons, building contractors, building officials, and tutors and students of construction-related disciplines.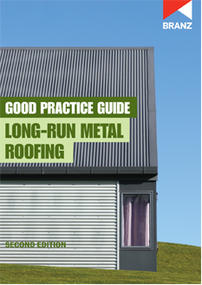 Good Practice Guide: Long-run metal roofing (2nd edition)
Long-run profiled metal roofing is commonly used on a wide range of buildings, from houses to large warehouses and industrial buildings. 
When correctly selected for the in-use environment, well detailed, well installed and well maintained, long-run metal roofing can provide years of trouble-free service. When poorly selected, detailed and constructed, metal roofs can cause major problems and require extensive maintenance during the life of the building.
This guide covers good roofing practice, detailing and materials and is aimed at designers and specifiers, roofing contractors, building contractors, building owners, building officials, and tutors and students in construction-related disciplines.
Good Practice Guide: Concrete slabs and basements (2nd edition)
This book is a guide to the planning, design, detailing, specification and construction of ground floor slabs and basements for residential buildings written for architects, designers, builders and concrete installers. 
It offers guidance on the initial decisions to be made and the subsequent steps to be taken to complete the design and construction of concrete slab floors and basements suitable for a wide range of situations.
Straightforward procedures are set out that will avoid the unnecessary faults, problems, increased initial costs and remedial costs that can occur if good practices are not followed. The text is liberally interspersed with explanatory sketches and photographs.