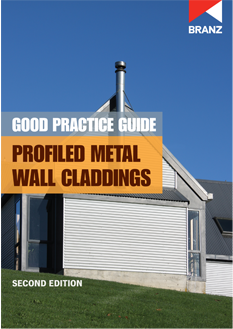 Good Practice Guide: Profiled metal wall claddings (2nd edition)
Product Description
This guide gives an overview of the issues to be considered when selecting, designing, detailing and installing profiled metal wall cladding systems. It identifies where and why problems are likely to occur and what care is needed to avoid potential problems. It emphasises the fact that the profiled metal sheets are just one part of the wall cladding system required to manage air and water penetration. 
To satisfy New Zealand Building Code and owners' expectations for performance in all conditions, profiled metal claddings require the correct design and installation of the whole cladding system comprising cladding (profile and orientation), cavities, cladding underlays, air barriers, all associated fasteners and flashings
The intended audience for this guide includes architects, designers, cladding and building trades, building consent authorities, tertiary tutors and apprentices.
Product Information

| | |
| --- | --- |
| Publication date | 1 June 2015 |
| Author | John Wierenga |
| Product type | Book |
| Availability | Available |
| Product code | BK166 |