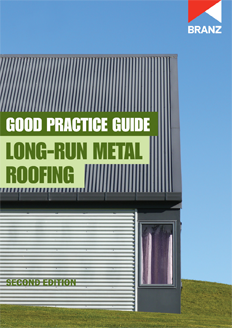 Good Practice Guide: Long-run metal roofing (2nd edition)
Product Description
Long-run profiled metal roofing is commonly used on a wide range of buildings, from houses to large warehouses and industrial buildings. 
When correctly selected for the in-use environment, well detailed, well installed and well maintained, long-run metal roofing can provide years of trouble-free service. When poorly selected, detailed and constructed, metal roofs can cause major problems and require extensive maintenance during the life of the building.
This guide covers good roofing practice, detailing and materials and is aimed at designers and specifiers, roofing contractors, building contractors, building owners, building officials, and tutors and students in construction-related disciplines.
Product Information

| | |
| --- | --- |
| Publication date | 1 January 2013 |
| Author | Trevor Pringle |
| Product type | Book |
| Availability | Available |
| Product code | BK100 |