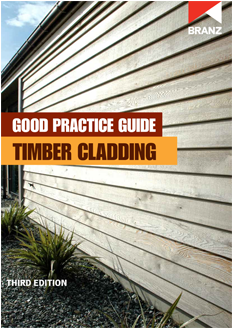 Good Practice Guide: Timber cladding (3rd edition)
Product Description
Timber cladding materials and skills needed for building and installation of traditional claddings have changed over the years. The conditions for building new timber-clad buildings have also changed over the years. Sites that would have earlier been avoided are now being built on, and buildings are also larger and more complex.
Other factors, such as weathertightness issues, have become more relevant. Designers have to consider carefully how they will achieve weathertight cladding solutions when traditional materials are being employed to satisfy homeowners' demands for complex buildings on more exposed sites.
This guide gives a comprehensive overview of the issues to be addressed by designers and installers of timber weatherboard and plywood sheet claddings.
Product Information

| | |
| --- | --- |
| Publication date | 1 May 2015 |
| Author | Alide Elkink |
| Product type | Book |
| Availability | Available |
| Product code | BK168 |