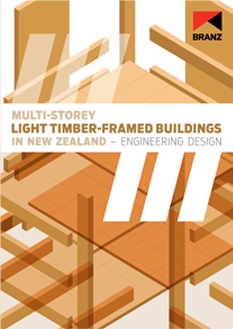 Multi-storey light timber-framed buildings in New Zealand: Engineering design
Product Description
These guidelines describe methods for designing LTF structures that go beyond 2.5 storeys and are outside the scope of NZS 3604:2011 Timber-framed buildings. They provide guidance on how designers can develop resilient Code-compliant designs for light timber-framed structures up to 6 storeys. The focus is on structural solutions, but also included are discussions and suggestions for how to address a variety of other necessary design aspects of multi-unit residential buildings such as fire and acoustic performance, floor vibrations and weathertightness.
In conjunction with other timber building resources, these guidelines will allow designers to provide a range of low-carbon timber building options that meet the needs of the growing population and shifting community profiles throughout the country.
Note: You will need to register to download the guide so we can notify you of any technical updates to the guide.
Product Information

| | |
| --- | --- |
| Publication date | October 2019 |
| Author | David Carradine |
| Product type | Book |
| Availability | Available |
| Product code | BKFRE5 |