Managing earthquake-prone council buildings – a decision framework
This guide provides a suggested best-practice framework to support councils to make decisions about the management of council-owned buildings that are earthquake prone. It provides a five-step approach to support consistent decisions about whether to continue using earthquake-prone buildings or not. The guide was developed in line with international standards for risk management (ISO 31000) and with input from territorial authorities. The suggested process reflects and balances various legislative responsibilities and aims to provide confidence to councils on how to meet their legislative obligations while also minimising disruption to council activities and community services.
Read the full research report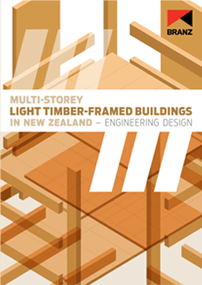 Multi-storey light timber-framed buildings in New Zealand: Engineering design
These guidelines describe methods for designing LTF structures that go beyond 2.5 storeys and are outside the scope of NZS 3604:2011 Timber-framed buildings. They provide guidance on how designers can develop resilient Code-compliant designs for light timber-framed structures up to 6 storeys. The focus is on structural solutions, but also included are discussions and suggestions for how to address a variety of other necessary design aspects of multi-unit residential buildings such as fire and acoustic performance, floor vibrations and weathertightness.
In conjunction with other timber building resources, these guidelines will allow designers to provide a range of low-carbon timber building options that meet the needs of the growing population and shifting community profiles throughout the country.
Note: You will need to register to download the guide so we can notify you of any technical updates to the guide.
Design decisions
Building design is a complex process involving a diverse range of skills and inputs.
A key role is considering amd balancing a wide range of often conflicting factors to achieve a building outcome that: 
meets client requirements

is aesthetically and environmentally sound

meets all planning and building control regulatory requirements including significant ones around durability, structural stability, fire resistance and weathertightness 

considers the future - climate, building use 

applies LCA and Code plus principles as appropriate

will be safe and healthy for occupants

can be built and effectively maintained

will remain serviceable after a major event. 
This publication identifies the wide range of factors that need to be considered as part of a building's design to achieve a successful long-term outcome for the client. Given the myriad of factors to be considered, it focuses on the key elements rather than getting into specific details of the relative merits of a design feature or building material or component.
Aimed primarily at designers and architects, this resource can be used as a check, particularly for those new to design and construction, to ensure all relevant design factors have been identified and considered.
Roof design
A roof is the first line of defence against rain, hail, snow and wind entry. High up and often overlooked, roofs are either the crowning glory of a building, exposed and proud, or a utilitarian solution for keeping out the rain, which is hidden from view. Whatever the approach, many factors must be considered to ensure the roof will perform as expected. 
Roofs have been constructed in a wide variety of forms, dictated by technical, regulatory, economic or aesthetic considerations. They can be flat, pitched, vaulted, conical, curved, domed, lantern, gabled, monopitch or shed, hipped mansard or in combinations. 
The aim of this resource is to identify and discuss the myriad of factors that need to be considered as part of the design and material selection to achieve a successful roof.
Seismic performance of non-structural systems
Despite the structural resilience of our building stock, evidence following several significant earthquakes both in New Zealand and around the world indicates that damage to non-structural components accounts for more than 85% of the costs of building damage.
When non-structural components typically make up 60–80% of a building's total value, this damage represents a significant economic impact. The seismic resilience of non-structural elements also has a significant effect on how quickly the building can be occupied after an earthquake.
This guide looks at all the elements within a building that are part of the primary gravity or lateral force-resisting structure but are still required for the building to function.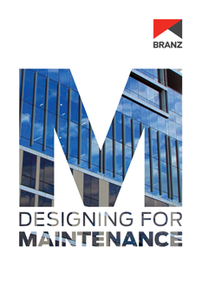 Designing for maintenance
Buildings are complicated. As part of the design process, the building designer must balance a range of potentially conflicting considerations such as:
client (owner/developer) attitudes to costs and maintenance 

material and finish costs

material and finish performance

equipment cost and performance

environmental conditions, both internal and external

maintenance requirements and associated costs for the materials/components selected

complexity of design and detailing

aesthetics

access

the expected refurbishment cycles for the building

building use and potential changes in use during its life

potential changes in available technology

safety.
Design and construction quality can also have a significant impact on the life expectancy of a building's materials and components as well as on the maintenance and renewal requirements.
The aim of this book is to outline maintenance issues that should be considered as part of the design process so that completed buildings are able to be effectively and economically maintained.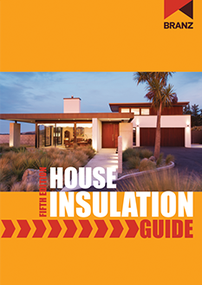 House insulation guide (5th edition)
This guide provides easy-to-read graphs and tables to help designers assess thermal performance and determine the as-built construction R-values that can be expected for given levels of insulation and common construction options.
It also outlines the generic properties of insulation and provides tips on good installation practices. It does not discuss thermal mass heat storage.
This 5th edition of the House Insulation Guide should not be used for determining the thermal resistances of slab-on-ground floors, windows and doors under H1/AS1 5th edition or H1/VM1 5th edition, the only editions that can be used after 2 November 2022. A 6th edition of the House Insulation Guide is currently being developed.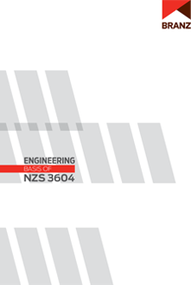 Engineering basis of NZS 3604
This book is intended as a source document for those who need to know the basis for the engineering decisions underpinning NZS 3604 Timber-framed buildings. 
NZS 3604 sets out the construction requirements for light timber-framed buildings in New Zealand that do not require specific structural engineering design. By limiting the size of the building and scope of application, a series of solutions are presented, enabling a designer to select an element or detail appropriate to the situation without needing to engage a structural engineer.
Landscape construction (2nd edition)
This book covers the design, building and planning rules as they apply to landscape construction and provides guidance on design and construction to ensure good practices are followed. It also considers the impact of landscape design and construction on the durability, structure and amenity value of surrounding buildings.
The book assumes some knowledge of building and is not a step-by-step guide. It discusses appropriate materials, the best use of them and their durability but is not intended to be a how-to guide to landscape building projects.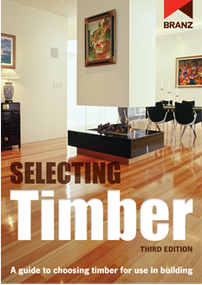 Selecting timber (3rd edition)
This is a guide for specifying and choosing timber for use in New Zealand buildings, which will be useful to all architects and designers, specifiers and builders working with timber.
As well as covering such key issues as timber treatment and moisture levels, the book features an extensive species data index, with separate sheets for each of 89 species of timber available on the New Zealand market. The data sheets cover key characteristics of each species such as timber strength, hardness and durability, borer susceptibility and typical uses.
Selecting timber briefly covers engineered wood products, plywoods and veneers, looking at their general characteristics, but does not cover specific performance or selection data for these.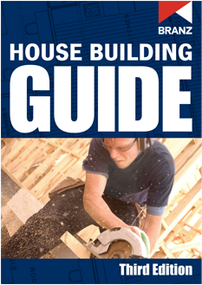 House building guide (3rd edition)
This publication is a comprehensive, practical, step-by-step guide and is the ideal reference tool for anyone involved in house building. The easy-to-read format follows through all the key steps involved in house construction right from setting out the site to lining out.
This guide contains practical guidelines for good timber-framed house building, with hundreds of diagrams, easy to follow tables for quick reference and bullet points for easy reading. Informative illustrations show how all the elements fit together.
Plumbing and Drainage Guide 2nd edition
This guide explains the general principles of the plumbing codes and standards for sanitary plumbing in New Zealand and Australia. Issues such as backflow prevention, protection from scalding and explosion by hot water installations and the use of air admittance valves are explained in clear and simple text.
Please note: This publication is currently under review.  We expect the updated edition to be released in 2022.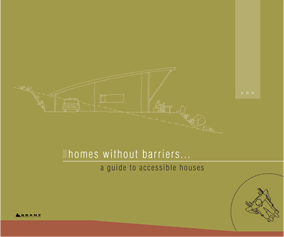 Homes without barriers: A guide to accessible houses
For most of us, the word 'home' means a place of comfort, a refuge, a place where we can be ourselves and relax. For people with disabilities or those growing older, home has a special importance because they are likely to spend more time there. But when physical barriers and poor design make that home difficult to live in, health, safety and happiness can be compromised.
Designing and adapting houses in a way that enables people to really live in their own home for longer makes sound economic as well as emotional sense. It will lessen dependency, lower the risk of accidents, reduce the cost to society and possibly even increase the resale value.
This guide is about houses that are not disabling. It was developed in conjunction with many people working in the health and disability fields. It is packed with diagrams and advice for building designers, builders, health professionals, homeowners and anyone involved in the design or alteration of houses for those with disabilities or the elderly.
Drained joints
Drained joint detailing is a well known and effective way of achieving durable weathertight joints in building façades. The execution of drained joints at the intersection of panels and aluminium extrusions has, however, proved to be more difficult than a simple explanation of the theory of drained joints would suggest. 
This guide is a digest of real leakage problems that have occurred in prototype testing or on finished buildings. It will bring designers face to face with leakage problems that have cost considerable money in the courts or expensive delays during prototype testing.