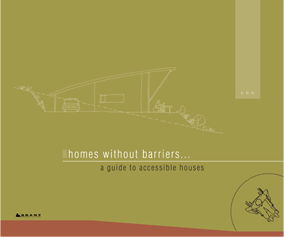 Homes without barriers: A guide to accessible houses
Product Description
For most of us, the word 'home' means a place of comfort, a refuge, a place where we can be ourselves and relax. For people with disabilities or those growing older, home has a special importance because they are likely to spend more time there. But when physical barriers and poor design make that home difficult to live in, health, safety and happiness can be compromised.
Designing and adapting houses in a way that enables people to really live in their own home for longer makes sound economic as well as emotional sense. It will lessen dependency, lower the risk of accidents, reduce the cost to society and possibly even increase the resale value.
This guide is about houses that are not disabling. It was developed in conjunction with many people working in the health and disability fields. It is packed with diagrams and advice for building designers, builders, health professionals, homeowners and anyone involved in the design or alteration of houses for those with disabilities or the elderly.
Product Information

| | |
| --- | --- |
| Publication date | 1 January 2001 |
| Author | Alan Bulleyment |
| Product type | Book |
| Availability | Available |
| Product code | BK024 |