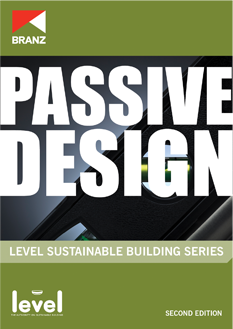 Level: Passive design (2nd edition)
Product Description
A critical aspect of a house's energy use and sustainability is the overall design of a building - its orientation on site, careful sizing and location of windows, specification of above-minimum insulation and making the best use of sun and wind for heating, cooling and ventilation.
This guide explains the technical background to good passive design, the choices and compromises that need to be made and Building Code and standards requirements that must be met.
The thermal performance requirements of building elements given in this book are from the 4th edition Building Code acceptable solution H1/AS1 and verification method H1/VM1. Note that 5th editions of H1/AS1 and H1/VM1 replace the 4th edition from 3 November 2022.
Product Information

| | |
| --- | --- |
| Publication date | 1 August 2019 |
| Author | David Hindley |
| Product type | Book |
| Availability | Available |
| Product code | BK204 |