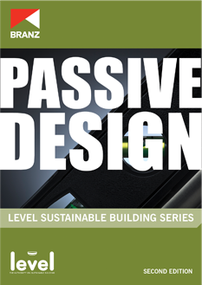 Level: Passive design (2nd edition)
A critical aspect of a house's energy use and sustainability is the overall design of a building - its orientation on site, careful sizing and location of windows, specification of above-minimum insulation and making the best use of sun and wind for heating, cooling and ventilation.
This guide explains the technical background to good passive design, the choices and compromises that need to be made and Building Code and standards requirements that must be met.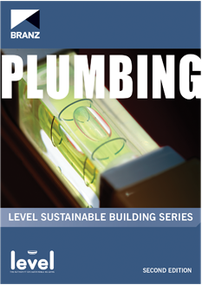 Level: Plumbing (2nd edition)
This publication gives guidance to designers and plumbing contractors in the key decisions and requirements around design and installation of hot and cold water supply and sanitary plumbing in a domestic building.  
This publication covers:
statutory requirements
design of water supply systems 
materials selection
water supply fundamentals including rainwater harvesting
cold water supply installation
hot water system selection and installation
sanitary plumbing including greywater harvesting.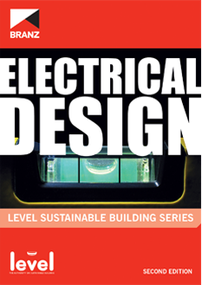 Level: Electrical design (2nd edition)
This popular publication gives designers and electrical contractors guidance around designing and specifying electrical and other cabling in domestic buildings. It pays particular attention to energy efficiency and homeowner comfort while reducing household running costs. 
This second edition takes account of the many changes since the first edition was published in 2009. These include updates to the New Zealand Building Code and standards, new materials and technologies (such as electric vehicles) and changing consumer preferences.
This publication covers:
Building Code and standards requirements
power supply system design
internal electrical wiring
wiring layout and installation
low voltage systems.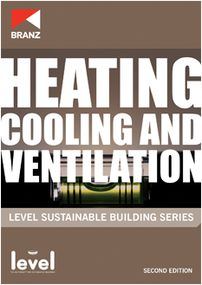 Level: Heating, cooling and ventilation (2nd edition)
This publication helps designers, specifiers and builders ensure that new and existing houses are warm and effectively ventilated, providing owner comfort, convenience, health and safety while minimising running costs. It acknowledges the importance of good passive design - taking advantage of free sources of energy such as sun and wind to provide heating, cooling and ventilation.
This publication covers:
heating and cooling design considerations and methods
thermal design
ventilation design considerations and methods.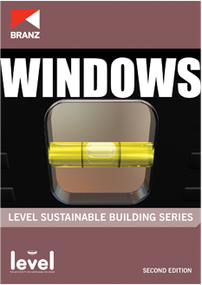 Level: Windows (2nd edition)
Windows and glazed doors play a vital role in sustainable building. They can account for more heat gain or loss than any other element in an insulated building envelope. A well designed glazing system can improve internal daylight levels, reduce glare and help maintain thermal comfort by reducing heat gain and loss. This contributes to energy efficiency by reducing the need for artificial heating, cooling or lighting.
This guide covers: 
building controls
functions of windows
performance of windows
aluminium, uPVC, steel, timber and fibreglass windows
classification of opening windows
glazing
insulating glass units (IGUs)
fittings and accessories
building construction.
This guide does not cover overhead glazing, roof windows, skylights or commercial facades or window sections.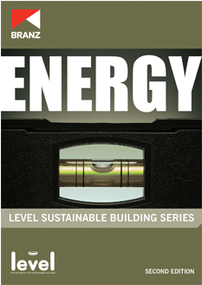 Level: Energy (2nd edition)
This guide covers important choices facing designers and homeowners in selecting active energy systems such as water heating, space heating and lighting and looks at options such as photovoltaic electricity generation. Considerations include what different technologies can achieve and which options are more energy efficient and environmentally friendly than others.
It explains the requirements of the New Zealand Building Code, standards and other obligations that need to be met while pointing out that going better than the required minimum typically brings benefits in comfort and ongoing cost savings.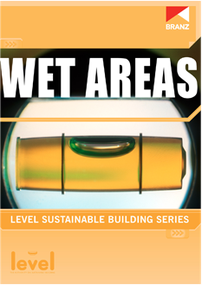 Level: Wet areas
This publication describes all key aspects of the design and construction of internal wet areas in domestic buildings to ensure that water remains contained within the wet area and the effects of moisture and humidity are effectively dealt with. It contains design tips that help to ensure that wet areas are safe, durable, convenient and sustainable.
This publication covers: 
wet areas and the New Zealand Building Code
common wet area problems
flood prevention
preventing water penetration
wet area design considerations
spatial design
wet area floors
wet area walls
fixtures and fittings
sustainability.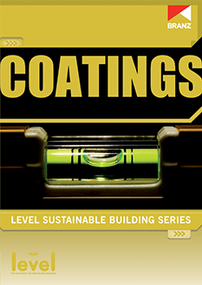 Level: Coatings
With approximately 25 million litres of paints, stains and varnishes used in New Zealand each year, owners and clients are increasingly concerned about occupant health and the impact their buildings have on the environment. 
This guide will help building practitioners select thin coatings for most common building materials and components while placing an emphasis on sustainability. It considers the substrate coatings are applied to, maintenance, durability, colour and appearance, all within a sustainability context.
Level: Materials
This publication outlines the factors that need to be considered when choosing materials for sustainable construction. There are no simple solutions that suggest one material is better in all circumstances than another. The required performance and durability of a material, its integration with other materials and the building's overall performance and lifetime all need to be considered.
This publication covers subjects such as life cycle assessment, choosing materials, ease of construction/installation and datasheets for interior and exterior materials.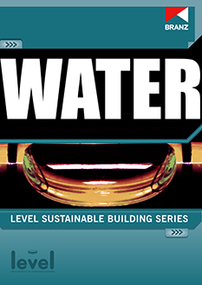 Level: Water
This guide describes ways to reduce water usage by minimising wastage, providing storage for future use and reducing waste water volumes requiring disposal. This publication will help to design homes that use water more efficiently, reduce costs and cope with droughts or storms.
This publication covers: 
domestic water
minimising water use
rainwater collection
landscaping and water use
wastewater
greywater systems
blackwater treatment
composting toilet systems.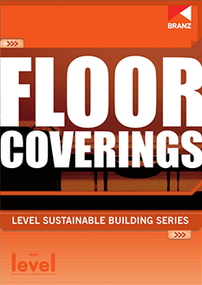 Level: Floor coverings
Appearance and durability are the key criteria for selecting floor coverings but it's also important to consider the environmental impacts.
This guide covers factors such as:
resistance to wear and moisture
ability to withstand chemical attack
suitability for the substrate
embodied energy - the amount of energy consumed to manufacture, transport, install and recycle the product
ability to recycle or reuse.
All the main options available are covered, from carpets to wood overlays, concrete to cork, solid timber to stone.