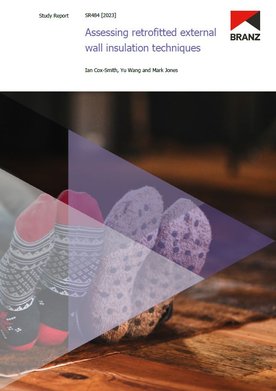 SR484 Assessing retrofitted external wall insulation techniques

(2023)
Product Description
Results of this study apply to the retrofitting of external walls with direct-fixed claddings without wall underlay.
Highlights
The pan method (paper or synthetic) resulted in water getting onto the framing.
Maintaining a 20 mm separation between the back of the cladding and the insulation was not able to prevent water transfer to the insulation and framing and limited the thickness of insulation installed but was observed to clearly perform better than the pan method. Maintaining a separation continues to be recommended over the pan method.
Using drainage plane mesh in conjunction with an underlay was the most reliable method and allows for thicker insulation to be used in retrofitting compared with maintaining a 20 mm separation.
See the BRANZ Research Now fact sheet for a short and accessible summary of this report.
Product Information
| | |
| --- | --- |
| Publication date | August 2023 |
| Author | Ian Cox-Smith, Yu Wang, Mark Jones |