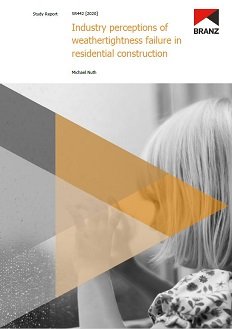 SR442 Industry perceptions of weathertightness failure in residential construction

(July 2020)
Product Description
This report investigates industry beliefs about why weathertightness issues persist in new residential builds and how these issues can be mitigated. The research methods used include an online survey, focus groups and in-depth interviews with key industry stakeholders.
The problems identified by research participants suggest that the persistence of external water leakage in new residential builds can be attributed to a systems failure within the industry. Discussing with study participants how modern cases of weathertightness failure can be mitigated, many of the solutions posited seek to address facets of how the building and construction industry operates, reflecting a belief that some of the mechanisms that guide how the industry functions paradoxically create conditions that undermine building quality.
See the BRANZ Research Now fact sheet for a short and accessible summary of this report.
Product Information
| | |
| --- | --- |
| Publication date | July 2020 |
| Author | Michael Nuth |
| System number | SR442 |