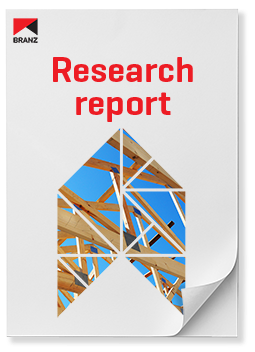 SR233 Investigation into the performance of urea formaldehyde foam insulation

(2010)
Product Description
The findings from inspections of several houses to date confirm that although serious problems with urea formaldehyde foam insulation (UFFI) installation process within New Zealand appear relatively rare, there are issues with the performance of the product within most, if not all, properties, where UFFI products have been used.
This ranges from poor installation and areas that have been missed by the applicator through to shrinkage of the foam, all of which significantly affect the thermal performance of the product and indeed the building. It is estimated that these effects can reduce the thermal effectiveness of the UFFI product by up to 60%.
Laboratory tests on both site samples and laboratory-prepared specimens have also indicated that the installed product does not meet the claimed performance specifications and may also be affected by high humidity conditions. There are also reports that the UFFI installation can affect the properties and performance of other building materials, such as paints, wall linings etc.
A review of the overseas literature has shown that the information regarding the health issues and effects of formaldehyde exposure from UFFI is unclear and inconsistent, with many variables, such as airtightness, ventilation and construction type, affecting the results and opinions around the world.
Product Information
| | |
| --- | --- |
| Publication date | 2010 |
| Author | I Cox-Smith, ME Hearfield, MS Jones and NJ Marston |
| System number | SR233 |