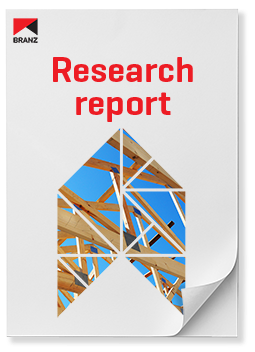 SR182 Weathering of polymeric materials in New Zealand

(2007)
Product Description
Most of the commercial organic-based polymers used in the building and construction industry undergo photolytic and photo-oxidative reactions during exposure to solar UV radiation.
The premature failure of these building polymers is a major concern to the building and construction industries, and the right choice of materials for a specific application is critical in maximising the lifetime of building products. An understanding of the durability and degradation of polymers within specific environments is required to assist the building industry in making correct decisions on materials.
New Zealand's climatic variables, such as UV radiation, temperature, humidity and sea spray, significantly affect the durability of polymeric materials, and reliable assessments for New Zealand Building Code durability requirements can sometimes be difficult.
Research into the natural weathering of a number of building plastics at nine exposure sites around the country has shown that there are significant differences in the rates of photo-degradation of polymeric materials at the different sites. The development of New Zealand weathering indices maps for clear polyolefin materials is beneficial in understanding the durability of building polymers within the environment.
In reality, most commercially available products will contain additive packages, such as UV stabilisers and anti-oxidants, to enhance durability. That said, the findings reported here do underline that manufacturers and specifiers need to be aware that the correct choice and accurate incorporation of these additives is crucial to obtaining any significant service life from exposed polyolefin and other polymeric materials.
Product Information
| | |
| --- | --- |
| Publication date | 2007 |
| Author | NJ Marston and MS Jones |
| System number | SR182 |