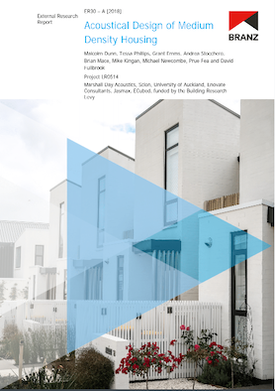 ER30A Acoustical design of medium-density housing

(April 2018)
Product Description
This collaborative research project was proposed and funded by the Building Research Levy to help BRANZ better understand this area and help address the following questions:
What are the key issues around acoustics and noise control that will need to be addressed to provide for quality, affordable and desirable MDH?
What existing information exists that can support good acoustic performance in MDH?
What gaps are there with this information? Where is there a need for new knowledge? Where is there a need for improved access/uptake of existing information?
This project has collated a large amount of information on the current state of play and the most relevant information resources, needs and gaps as they relate to noise control and acoustics in New Zealand medium-density housing. An extensive industry survey and other consultation includes qualitative and quantitative data covering the full range of perceptions in this topic from across New Zealand industry.
See ER30B for Appendix G to this report.
Product Information
| | |
| --- | --- |
| Publication date | 1 April 2018 |
| Author | Malcolm Dunn, Tessa Phillips, Grant Emms, Andrea Stocchero, Brian Mace, Mike Kingan, Michael Newcombe, Prue Fea and David Fullbrook |
| System number | ER030A |