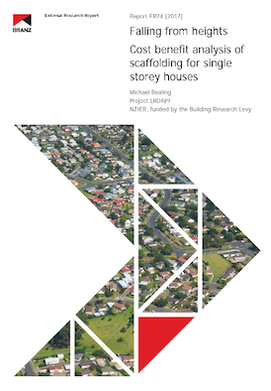 ER24 Falling from heights: Cost-benefit analysis of scaffolding for single-storey houses

(June 2017)
Product Description
Following the introduction of stricter working at heights guidance and changes in industry practice, BRANZ commissioned research to assess the benefits and costs of using scaffolding on single-storey new-build houses.
The research carried out by NZIER looked at injuries before and after the introduction of the guidelines and the productivity gains and costs associated with the introduction of new safety measures. It considered whether the costs of eliminating risk is proportionate to the health and safety benefits.
It concluded that there are safety, productivity and inspection benefits from using scaffolding for working at heights for all single-storey new builds. However, the cost of using scaffolding was found to be greater than the benefits.
Product Information
| | |
| --- | --- |
| Publication date | 6 June 2017 |
| Author | Michael Bealing |
| System number | ER024 |