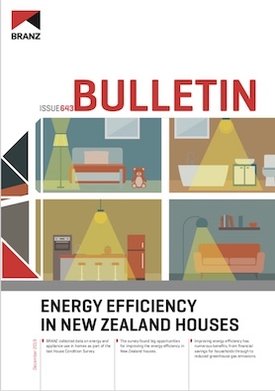 BU643 Energy efficiency in New Zealand houses

(2019)
Product Description
BRANZ has carried out a House Condition Survey of New Zealand houses approximately every 5 years since 1994. The 2015 sample of 560 houses was broadly representative of the national housing stock and included both owner-occupied and rental houses. The survey comprised an on-site physical house assessment, a telephone interview with the occupants and an appliance use questionnaire completed by the occupants. 
The survey found big opportunities for improving the energy efficiency in New Zealand houses. Improving energy efficiency has numerous benefits, from financial savings for households through to reduced greenhouse gas emissions.
This bulletin covers:
space heating systems and appliances
space heating habits
thermal insulation
glazing
water heating systems
lighting and appliances
residential electricity consumption
regulatory changes around energy efficiency
key opportunities for improvement.