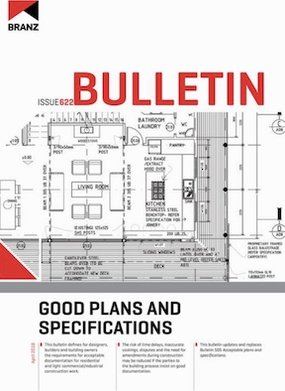 BU622 Good plans and specifications

(2018)
Product Description
This bulletin defines for designers, builders and building owners the requirements for acceptable documentation for residential and light commercial/industrial construction work. The risk of time delays, inaccurate costings, disputes and the need for amendments during construction may be reduced if the parties to the building process insist on good documentation.
This bulletin updates and replaces Bulletin 505 Acceptable plans and specifications.
This bulletin covers: 
why produce plans and specifications
defining good documents
common omissions
project information memorandum
building consent applications
pricing and tendering.