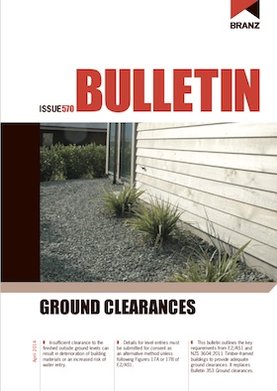 BU570 Ground clearances

(2014)
Product Description
Insufficient clearance to the finished outside ground levels can result in deterioration of building materials or an increased risk of water entry.
This bulletin outlines the key requirements from E2/AS1 and NZS 3604:2011 Timber-framed buildings to provide adequate clearance between building materials, floor levels and the outside ground or paving levels. It replaces Bulletin 353 Ground clearances.
The bulletin covers:
what are ground clearances
problems caused by inadequate ground clearances
Building Code requirements
reasons given for inadequate ground clearances
design and construction requirements
remedying existing buildings
claddings below ground
providing level access.