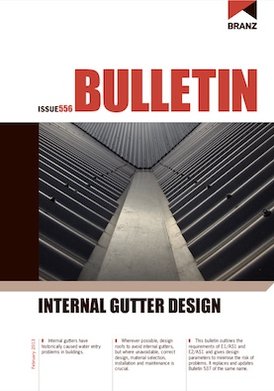 BU556 Internal gutter design

(2013)
Product Description
Internal gutters, also known as box gutters, are seen as an easy solution to the collection and disposal of roof water. However, significant inconvenience, damage, repair cost and health issues may occur if water from the gutter gets into the building structure and/or the space below.
This bulletin outlines the requirements of E1/AS1 and E2/AS1 and gives design parameters to minimise the risk of problems. It replaces and updates Bulletin 537 of the same name.
The bulletin covers:
Building Code requirements
design recommendations, including general design, gutter slopes and outlets
testing
maintenance.