The focus on environmental responsibility was initially driven by the tenant, Meridian Energy. They wanted their new headquarters to reflect their commitment to energy efficiency. Meridian was prepared to pay a premium for achieving a high Green Star rating, and that provided the original driver for all other parties involved.

Key initiatives for minimising waste included:
attention given to waste minimisation during the design stages
recycling timber, plasterboard, plastics, metal, paper and cardboard
having a waste minimisation plan and keeping a register
waste sorting and reuse
awareness and education
subcontractor and supplier management.
| | |
| --- | --- |
| Building name | Meridian Energy Headquarters Development |
| Developer | Dominion Funds |
| Project management | Mallard Cooke |
| Design and engineering | Studio Pacific, Beca, Dunning Thornton |
| Construction | Fletcher Construction |
| Tenant | Meridian |
| Location | Wellington Waterfront (Kumutoto 7) |
| Project start date | March 2006 |
| Project completion date | September 2007 |
| Waste diverted from landfill | 60% |
| Total waste generated | 1,151 m³ |
Planning
REBRI guidelines, including the waste management plan, were used throughout the project.
Developing the plan had a major benefit, as it improved understanding of what types of waste were to be generated and allowed planning for how these wastes could be used. It therefore provided the knowhow and supported the waste minimisation efforts. The most useful information in the guidelines was the specific ideas for recycling and reduction for individual trades.
Templates were very useful elements of the guidelines, especially the waste register, audit methodologies and conversion factors.
Execution
Several key components made the project.
Waste management plan and register: An environmental management plan was developed by Fletcher Construction that included a specific waste management plan, adopting REBRI guidelines. A register recorded the volumes of waste sent to landfill and recycled on an ongoing basis. This provided motivation and clarity on how well the team was performing at each stage of the project.
Recycling programme: As different types of materials came into focus at subsequent stages of the construction, a comprehensive recycling programme was gradually developed. Metal was already being recycled, and paper and mixed recycling was implemented very early on, with the company Full Circle managing this. Other types of waste such as timber, plasterboard and specific types of plastic were taken care of when larger volumes started to be produced.
Education and awareness: Awareness building was a key success factor in the project. Fletcher Construction staff were informed about the environmental objectives of the project at the outset. A special toolbox talk focusing on waste minimisation explained the motivation for recycling and methods that could be used. Contracts with suppliers and subcontractors included clauses that related to environmental issues, but the real education had to be undertaken directly with the staff on site. The site supervisor was responsible for instructing all newcomers on the recycling systems during the safety inductions. Ongoing reminders were kept up and recycling efforts and performance were communicated at all toolbox talks by the project manager.
Attention to packaging: Packaging had been expected to contribute significantly to waste generation, so negotiations with suppliers included checking whether recyclable packaging was available, and arrangements were also made to minimise the use of packaging while protecting materials and avoiding wastage.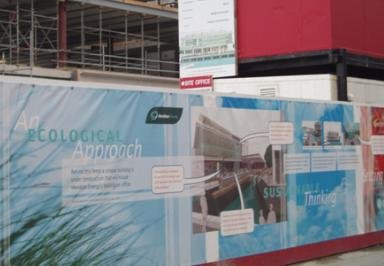 Key waste reduction outputs
| Waste material type | Destination | Approximate volume (m³) |
| --- | --- | --- |
| Timber | Composted | 444 |
| Plasterboard | Composted | 184 |
| Paper | Recycled | 26 |
| Plastic | Recycled | 4 |
| Mixed | Recycled | 8 |
| Metal | Recycled | 22 |
| Landfill | To landfill | 463 |
The overall amount of waste generated on site was already very low compared to other typical building sites in Wellington, thanks to the attention given to waste minimisation during the design stages.
Approximate savings achieved were:
waste management - $14,000
waste diversion from landfill - $20,000.
Timber and plasterboard composting services were provided by Wellington City Council free of charge. While this improved the financial benefit of recycling significantly, the project would still have generated savings at composting prices lower than $250 per pick-up (8 m³ cage).
Lessons learned/recommendations
People factors
A major success factor was the motivation that was constantly provided from many sources:
Meridian Energy - the tenant clearly indicated their desire for a green building.
Fletcher Construction - stood behind the project and supported staff on site by implementing waste minimisation systems in their headquarters - 'walking the talk'.
Wellington City Council - very supportive of the project, providing their free-of-charge services for timber and plasterboard recycling, which significantly reduced the risk of the project and strengthened the financial business case.
Ministry for the Environment - sponsored a support consultant to advise the Fletcher team throughout the project.
Waste champions - Emma White (site administrator), Robert Tagget (supervisor) and Richard Cameron (project manager) were responsible for maintaining motivation and ensured that the systems didn't slip up as new workers arrived on the site.
Waste contractors - working closely with the project managers, Full Circle provided excellent services in finding recycling solutions for different types of plastic packaging.
Waste minimisation is a collaborative project. None of the parties involved would be able to achieve high reduction rates in isolation. Much effort went into changing people's habits and creating awareness of benefits.
Management was often motivated by the financial business case and customer demand. Staff on the ground responded best when appeals to their environmental consciousness were made. Presentations on how the recycling on site would help the environment at large encouraged people to go the extra distance for using the recycling system and suggest improvements.
Technical factors
Key strategies that contributed to waste reduction on the Kumutoto site:
Focus on volume waste - when a large volume of a specific type of waste was expected (for example, timber, plasterboard or timber plastic packaging), a specific system was developed to deal with it. This was then implemented for the time required, creating a routine that was easy to follow and easy to monitor, generating the largest reductions.
Mobile bins - smaller wheelie bins and cages that were easily lifted to loading bays were very effective in encouraging recycling as they were always available close to work stations. For staff working at upper floors, recycling was the only option because the general waste skip was only available at ground level.
Small capacity for general waste - only one small rubbish bin was available for the site, and its use was strongly discouraged.
Site advantages - the site had a fair amount of extra space available for waste bins, which proved especially useful in the early stages when the system was still evolving. Ample crane capacity on site allowed for waste movements.