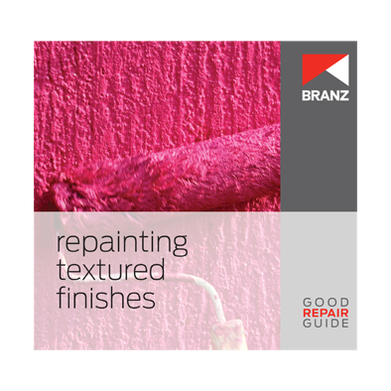 Good Repair Guide: Repainting textured finishes
Product Description
Texture-coated claddings - typically stucco, EIFS (exterior insulation and finishing system) or texture-coated flush-stopped fibre-cement - rely on good detailing and installation, a cavity, a coating to seal the surface against moisture penetration and regular maintenance of that coating to ensure the surface remains weatherproof. Other claddings with similar finishes include plastered masonry veneer, lightweight aerated concrete and polystyrene block walls.
Repainting over the texture is required as recommended by the coating manufacturer. Recoating to keep the substrate well protected may be necessary even if the appearance of the coating is still acceptable.
This Good Repair Guide explains what textured-coated cladding systems are and looks at rules and regulations, health and safety, tools, recoating and maintenance of repainted textured finishes.
Product Information

| | |
| --- | --- |
| Publication date | 1 October 2013 |
| Author | Trevor Pringle |
| Product type | Book |
| Availability | Available |
| Product code | BK106 |