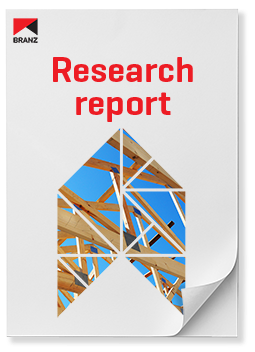 SR93 Cost-effective fire safety measures for residential buildings in NZ

(2000)
Product Description
A study was carried out that investigated the cost-effectiveness of the installation of smoke alarms and domestic sprinklers in New Zealand dwellings in order to reduce injury and property losses and to save lives. The study followed methodology used for a similar study in Australia, with similar conclusions resulting from both studies. A number of different smoke alarm installation options were considered. Stand-alone battery-powered smoke alarms are considered to be a cost-effective measure.
The report gives a brief historical record of the domestic fire problem in New Zealand. An analysis of statistical fire records and risk profiles in New Zealand is undertaken and comparisons with similar overseas data are made. The statistical analysis includes data on the causes and locations of fires in residential buildings.
The approach to the cost-effectiveness methodology is outlined, with comparison made to a similar Australian study. The details of the cost/benefit study for a variety of configurations of smoke alarm and for domestic sprinkler systems form the basis of recommendations relating to the cost-effectiveness of these types of fire protection for dwellings.
Product Information
| | |
| --- | --- |
| Publication date | 2000 |
| Author | CA Wade and CR Duncan |
| System number | SR093 |