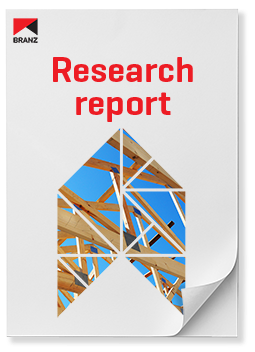 SR45 Simple methods to resist joist roll-over forces

(1992)
Product Description
This is the first of two reports prepared for the research programme on house foundations undertaken by BRANZ. The second report can be found in SR46.
The latest New Zealand non-specific design code for light timber-framed houses defines the minimum required strength of the connection between joist and bearer(s) at each braced pile or anchor pile. The connection is required to resist a horizontal force totalling 12 kN applied parallel to the bearer at the diaphragm level. These horizontal forces tend to roll joists over onto the bearer below.
The potential cost in providing mechanisms to resist joist roll-over forces has caused some concern in the building industry. Consequently, some simple and cheap methods that satisfy the requirements of the Code have been investigated. This report describes this work.
A draft BRANZ technical recommendation is also presented that details recommended construction methods to resist joist roll-over action.
Product Information
| | |
| --- | --- |
| Publication date | 1992 |
| Author | SJ Thurston |
| System number | SR045 |