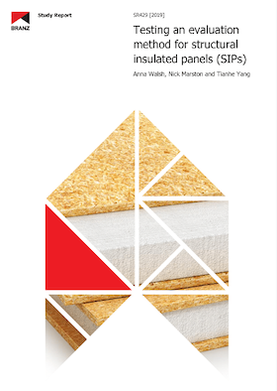 SR429 Testing an evaluation method for structural insulated panels (SIPs)

(October 2019)
Product Description
Structural insulated panels (SIPs) have become increasingly popular internationally, driven by the demand for fast, affordable and energy-efficient building solutions. SIPs construction is increasing in New Zealand, but there is currently no information available on how the system will perform in the long term under New Zealand conditions. SIPs must comply with the relevant sections of the New Zealand Building Code (NZBC), including clause B2 Durability, which sets a minimum durability requirement of 50 years for structural materials.
This pilot study aimed to develop and test an evaluation method that could be used to assess the durability performance of SIPs. The methodology was based on existing, well accepted methods that use accelerated ageing to predict durability. The experimental work tested the change in tensile strength (before and after ageing) of six different SIP types, including both laboratory-made and commercially available products.
The results show that performance differences could be identified between the different products following accelerated ageing under the proposed test methods. Further work is recommended to develop the test methods so that they can be used to assess quality.
Product Information
| | |
| --- | --- |
| Publication date | October 2019 |
| Author | Anna Walsh, Nick Marston and Tianhe Yang |
| System number | SR429 |