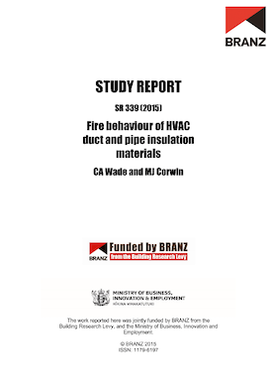 SR339 Fire behaviour of HVAC duct and pipe insulation materials

(2015)
Product Description
This report describes an investigation of the fire behaviour and fire test methods used for combustible duct and pipe insulation materials intended for installation within New Zealand buildings. The study considered both rigid and flexible duct and pipe applications and included full-scale room fire testing of polyester-insulated ducts.
It is concluded that the fire method AS 1530.3 (and therefore AS 4254) does a poor job in discriminating fire performance and hazard of thermoplastic ductwork insulation. The Group Number system currently used for wall and ceiling surface linings provides a better means of assessing the likely contribution of a duct material to a developing fire.
A deemed-to-comply classification for polyester flexible ductwork is proposed, with other duct materials evaluated using ISO 5660 or ISO 9705. Duct materials should be assessed in a flat sheet configuration the same as for a wall or ceiling lining. EN-certified products should also be accepted. It is recommended that the fire properties of external surface finishes of HVAC ducts be regulated in similar situations as would be required for wall and ceiling materials.
Product Information
| | |
| --- | --- |
| Publication date | 2015 |
| Author | CA Wade and MJ Corwin |
| System number | SR339 |