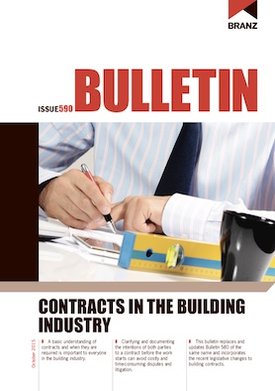 BU590 Contracts in the building industry

(2015)
Product Description
Clarifying and documenting the intentions of both parties to a contract before the work starts can avoid costly and time-consuming disputes and litigation. This bulletin explains what a contract is, the types of building contracts available and how they relate to the building process.
This bulletin replaces and updates Bulletin 580 of the same name.
The bulletin covers:
parties to a building contract
scope for contractual problems
basic legal requirements
implied warranties
what form must a contract take
types of building contracts
standard forms of contract
benefits of a written contract.