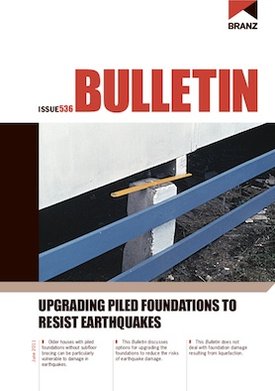 BU536 Upgrading piled foundations to resist earthquakes

(2011)
Product Description
Older houses with piled foundations without subfloor bracing can be particularly vulnerable to damage in earthquakes. The damage sustained is generally due to the inability of the superstructure of the house to move (particularly sideways) as quickly as the ground beneath it does, because it is too slow to respond.
This bulletin discusses options for upgrading the foundations to reduce the risks of earthquake damage.
The bulletin covers:
pile connections
subfloor bracing, including houses with or without concrete perimeter walls or corner walls
timber jack stud subfloor framing
houses with large open spaces beneath them.