Key people
Dr Casimir MacGregor - Programme Leader
Casimir MacGregor is a senior social scientist at BRANZ. His research includes regulatory responses to the role of buildings in mitigating and adapting to climate change (with MBIE), an energy epidemiology of health settings and a new study (with University of Otago Business School) on how industry is preparing for climate change.
Dr David Dowdell – Programme Science Leader
David Dowdell is a Principal Scientist at BRANZ. His key areas of research interest include the application of life cycle assessment to building design and construction and supply chain traceability of construction products.
Programme Advisory Group
The programme is supported by a Programme Advisory Group with two sub-groups:
The Science Leadership sub-group provides specialist advice to the programme, supports research quality and helps to develop research capability.
The Industry Engagement sub-group provides guidance on industry issues, concerns and experiences, helping turn research solutions into practical action.
Programme structure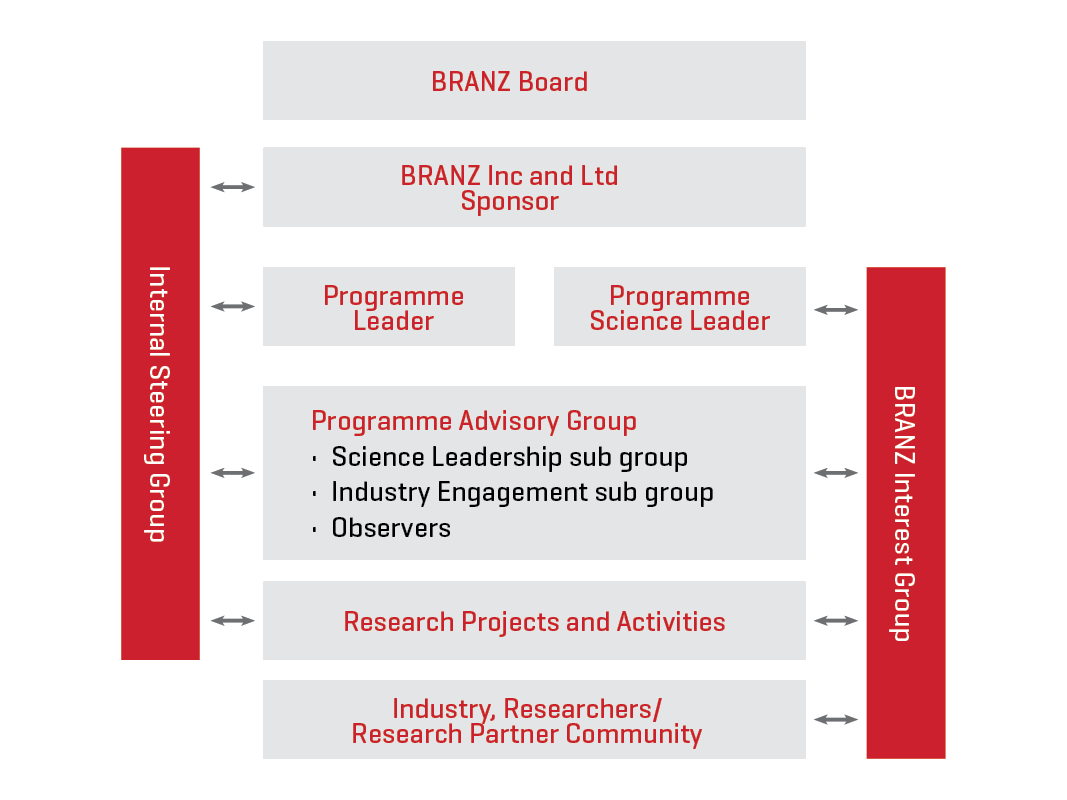 Invitation to collaborate
BRANZ is working with partners from across New Zealand and we want to grow capability and connections.
We are seeking more people with knowledge along the building supply chain and life cycle (from design, products and construction to demolition and waste reduction) across and within research, policy and industry communities.
BRANZ would like to hear from stakeholders - including universities, industry and other research providers - around what could be done in partnership to support capability growth. This could include but should not be limited to support with joint-curriculum development or student scholarships. We would also welcome new ways to collaborate, including with industry.
Contact us
For more information, or if you are interested in collaborating with us, please get in touch.