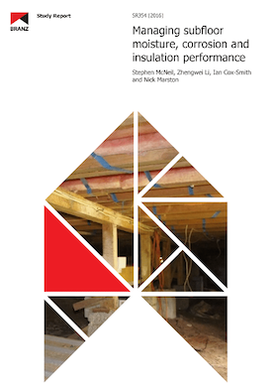 SR354 Managing subfloor moisture, corrosion and insulation performance

(2016)
Product Description
Many New Zealand buildings are standing on a suspended timber floor, and consequently, there are concerns when it comes to dealing with moisture in this space and the effect on fastener corrosion, timber moisture content and insulation performance.
A field survey was completed on eight homes around New Zealand, measuring and monitoring the framing moisture content, air relative humidity and temperature for a calendar year. Corrosion samples were also installed to assess the corrosivity of the environment relative to atmospheric conditions in multiple places under each building.
In general, the subfloor environment was found to be more benign from the corrosion point of view compared with atmospheric conditions. However, corrosion samples located near vent openings were found to suffer more degradation than the rest of the samples. This is mainly due to greater temperature variation and localised wetting due to rain.
In regards to managing moisture, experimental facilities on site at BRANZ were used to assess the effect of ventilation and ground covering on the accumulation of moisture. The importance of the role that ventilation plays was reaffirmed, with a lack of vents causing a rapid accumulation of moisture in structural framing members.
Product Information
| | |
| --- | --- |
| Publication date | 2016 |
| Author | Stephen McNeil, Zhengwei Li, Ian Cox-Smith and Nick Marston |
| System number | SR354 |