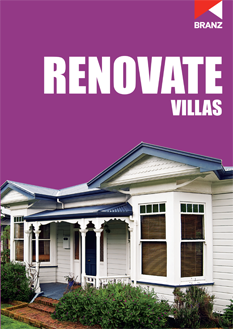 Renovate: Villas
Product Description
Many of the country's 85,000 villas, built before World War 1, have yet to be upgraded and renovated. Typically, they are colder and draughtier, their spaces have a poor relationship to sun and site and their service areas such as bathrooms are not well related to other rooms.
This book is well illustrated with crystal clear drawings showing typical construction methods for framing, roofing, windows and interior building elements. The workings of double hung sash windows alone are shown in six drawings and two photographs.
Typical building materials and construction methods, including match lining, lath and plaster, pressed metal and moulded timbers are explained.
Common problems are outlined, with options given on the appropriate repair or renovation.
Product Information

| | |
| --- | --- |
| Publication date | 1 July 2010 |
| Author | Trevor Pringle |
| Product type | Book |
| Availability | Available |
| Product code | BK082 |