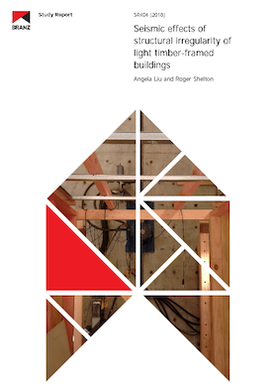 SR404 Seismic effects of structural irregularity of light timber-framed buildings

(2018)
Product Description
Earthquake damage observed in the 2010/11 Canterbury earthquake sequence demonstrated that simple regular light timber-framed (LTF) houses performed well while irregular houses often had significant damage that was uneconomical to repair. This suggested that the irregularity of LTF buildings was an important factor responsible for the exacerbated earthquake damage.
The objectives of this study were to quantify seismic effects of permissible irregularities of single-storey buildings in NZS 3604:2011 Timber-framed buildings and to provide scientific evidence for elaborating irregularity limits in NZS 3604:2011.
To study the seismic effects of permissible plan irregularities from NZS 3604:2011 on LTF buildings, six case study buildings with different permissible bracing irregularities were seismically designed to NZS 3604:2011. Three-dimensional non-linear push-over analyses were conducted of these model buildings where LTF walls and ceiling diaphragms were modelled using the models developed in this project.
The study revealed that permissible irregular bracing arrangements in NZS 3604:2011 could amplify lateral deflections by 500% compared with regular counterparts. The consequence is that irregular LTF buildings within the scope of NZS 3604:2011 could be unacceptably flexible in earthquakes, implying the need for tightening the irregularity limits in NZS 3604:2011.
See the BRANZ Research Now for a short and accessible summary of this report
Product Information
| | |
| --- | --- |
| Publication date | August 2018 |
| Author | Angela Liu and Roger Shelton |
| System number | SR404 |