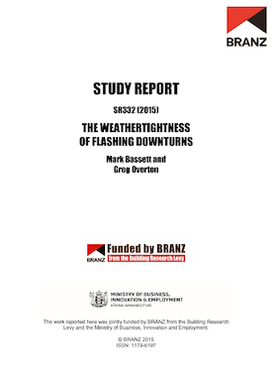 SR332 The weathertightness of flashing downturns

(2015)
Product Description
This paper explores the weathertight performance of the downturned legs of flashings. The weathertightness of window head flashings has recently been questioned. They are more often procured from a limited range of sizes than folded for a specific joint and may no longer be as tight fitting as was the tradition.
The pressure at the onset of leakage through these downturned flashings has been measured for a variety of leg lengths, fit quality and end details. As expected, the onset of leakage through tight-fitting joints occurred at close to the hydrostatic head equivalent of the flashing leg height. Adding a kick-out and bird's beak end effectively rainscreened the joint against rain entry and easily doubled the pressure at which the joint started to leak. All of the joints in wide use in New Zealand have leg lengths in the range of 10-90 mm. They are sufficiently weathertight to pass the 50 Pa wetwall test in E2/VM1 for low-rise buildings.
Joints with continuous gaps under the flashing exceeding 1-2 mm allowed air leakage to entrain raindrops and carry them deep into the joint. The consequential lower leakage onset pressures were unaffected by the leg length of the flashing. However, they could be increased by 50% or 100% by adding a kick-out or bird's beak end respectively.
Installing loose-fitting flashings so they sit tight against the top of the cladding (or window facing) and with the leg protruded out from the cladding were particularly effective. This is the best approach to fitting off-the-shelf flashings. With fluctuating air pressures in the frequency range 0.1-0.7 Hz, the tight-fitting joint behaved as though there was little inertia or storage in the leakage path. This led to leakage onset pressures that could be calculated from the steady pressure leakage function. For loose-fitting joints, there was a tendency for the peak pressures to exceed the steady state leakage onset pressure.
Product Information
| | |
| --- | --- |
| Publication date | 2015 |
| Author | Mark Bassett and Greg Overton |
| System number | SR332 |