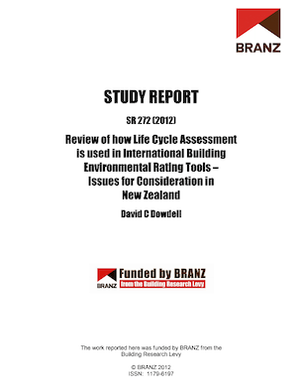 SR272 Review of how life cycle assessment is used in international building environmental rating tools - issues for consideration in New Zealand

(2012)
Product Description
Life cycle assessment (LCA) is a method that can help deliver the whole-of-life-based environmental profiling tools desired by the New Zealand construction industry in order to provide a fairer basis for comparison. There are already examples of its application in international building environmental rating tools.
It is therefore of interest and timely to review examples of building environmental rating tools that already utilise LCA within their assessment processes in order to understand how its outputs are used and the extent to which they are applied for consideration in New Zealand.
In this report, examples of international building environmental rating tools have been reviewed and a list of desirable attributes for a New Zealand scheme compiled.
Product Information
| | |
| --- | --- |
| Publication date | 2012 |
| Author | David Dowdell |
| System number | SR272 |