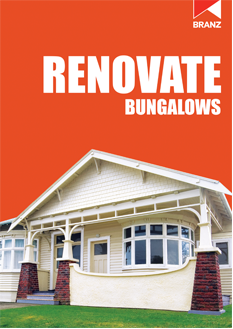 Renovate: Bungalows
Product Description
Bungalows are the archetypal house of 1920s New Zealand. Builders and architects took ideas from the United States, Canada, India and even Japan and added their own features to create this popular and enduring style. The style is distinctive, with a deep porch, exposed rafter eaves, extended bargeboards and oriel windows. Many bungalows remain largely in their original form, and they are frequently subjects for renovation.
This technical resource looks at:
what defines a bungalow style
how they were constructed and with what materials
the typical modifications they have had in the years since they were built
typical problems and suggested remedies
how to get a consent for renovation work, looking at compliance paths and Alternative Solutions
project and construction planning.
Product Information

| | |
| --- | --- |
| Publication date | 1 October 2010 |
| Author | Alide Elkink |
| Product type | Book |
| Availability | Available |
| Product code | BK084 |