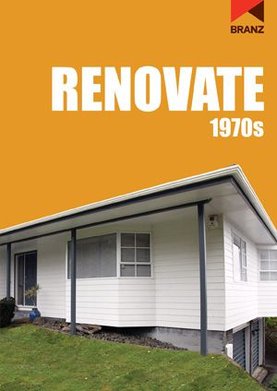 Renovate: 1970s
Product Description
Over 279,000 houses were built in New Zealand in the 1970s, a time of expanding suburban development. Architectural styles developed during the 1950s and 1960s influenced mass housing, and a wide range of new materials was used. Split-level homes became common on sloping sites, and many houses included garaging for two cars, with internal access. Architect-designed houses introduced different window styles and rooflines as well as new linings and claddings.
Many houses from this era are little changed since construction. Typical renovation work includes updating kitchens and bathrooms and making improvements to energy efficiency through retrofitting thermal insulation and installing modern space heating systems.
This technical resource covers:
exactly what defines 1970s style
how these houses were constructed and with what materials
modifications they may have had in the decades since they were built
typical problems and suggested remedies.
This book also takes you through the issue of getting a consent for renovation work, looking at compliance paths and Alternative Solutions. 
Product Information

| | |
| --- | --- |
| Publication date | 1 June 2011 |
| Author | Alide Elkink |
| Product type | Book |
| Availability | Available |
| Product code | BK088 |