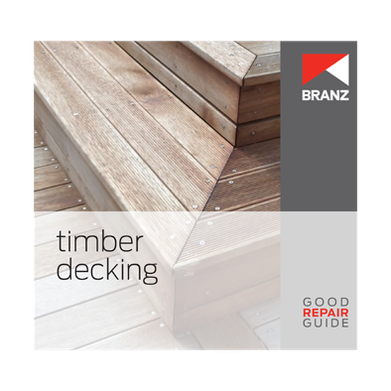 Good Repair Guide: Timber decking
Product Description
Regular wetting and drying of timber decking results in timber swelling and shrinking. In combination with exposure to UV light and temperature changes, this can result in timber deterioration.
Timber slat decks are usually fully exposed to the weather. To deal with water dispersal, these decks have 3-6 mm gaps between the timber boards. Although villas and bungalows may have a roofed veranda or porch, the timber decking is still exposed to the weather. The decking in these houses is typically tongue and groove (T&G) boards, and they are laid with a fall to the exterior of the building to shed water.
This Good Repair Guide describes some of the common problems that can occur and how timber decking can be repaired and maintained.
Product Information

| | |
| --- | --- |
| Publication date | 1 February 2015 |
| Author | Alide Elkink |
| Product type | Book |
| Availability | Available |
| Product code | BK117 |