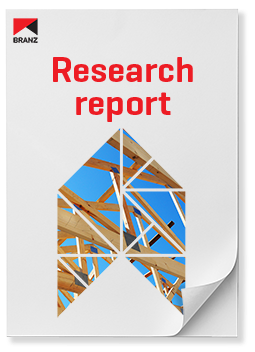 SR77 Sheathing contributions to wall element strength and stiffness

(1997)
Product Description
This study forms the first phase of an investigation to quantify the degree of interaction between timber structural framing components and non-structural sheathings and their effect on the stiffness and strength of the structural framing when subjected to axial loadings and out-of-plane face loadings.
This project investigated:
the stiffness enhancement of studs sheathed with internal and external sheet materials when subjected to simultaneously applied axial and face loading
the strength of connections typically used between top framing plates and truss or rafter members under uplift loading
top plate stiffness enhancement provided by internal and external sheet materials.
Results indicated that the out-of-plane bending stiffness enhancement offered to studs by gypsum plasterboard and fibre-cement sheet sheathings was at least 60% for gypsum plasterboard only on one side and at least 150% for gypsum plasterboard on one side and fibre-cement sheet on the other..
Product Information
| | |
| --- | --- |
| Publication date | 1997 |
| Author | BL Deam and GJ Beattie |
| System number | SR077 |