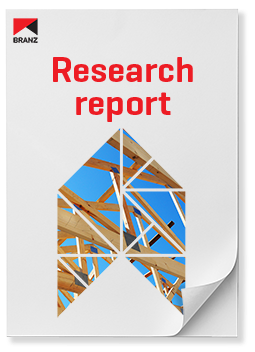 SR61 Fire hazards in residential buildings

(1997)
Product Description
Fire hazards in residential buildings were investigated by conducting a range of fire experiments on a purpose-built typical low-cost New Zealand dwelling. Hazards evaluated ranged from limited liquid fuel fires to larger-scale burns using items of furniture. The effectiveness of a range of detection and suppression devices was also tested.
A selection of experimental results was analysed to determine smoke and toxic gas movement along with temperature rises in the various rooms of the house. These results were compared with the predictions of fire growth computer models.
It was concluded that reliable predictions of smoke alarm, heat detector and sprinkler activation may be based on an initial temperature rise in the upper layer in combination with the first indications of descent of the upper layer. The effect of open vents can be reliably modelled, provided account is taken of the equivalent open area. For closed doors, the gaps around the perimeter are measured and a leakage allowance is included in the model input.
Reconstruction of fire scenarios is where computer models appear to be more useful rather than predicting possible outcomes beforehand, due to the benefit of being able to use clues as to the progress of a fire.
Product Information
| | |
| --- | --- |
| Publication date | 1997 |
| Author | PCR Collier |
| System number | SR061 |