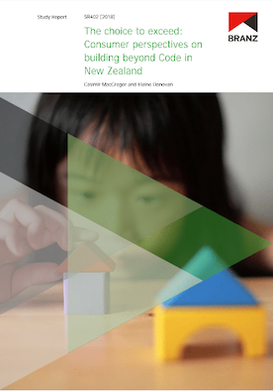 SR402 The choice to exceed: Consumer perspectives on building beyond Code in New Zealand

(December 2018)
Product Description
This report examines consumer decision making about the choice to exceed minimum building standards as outlined in the New Zealand Building Code. A particular focus of research has been to examine the interactions between consumers and the building industry and the ability of consumers to make an informed decision to exceed the minimum.
A qualitative social research methodology was undertaken. Research was conducted in three parts: 1) An information audit of current industry advice and messages to consumers about exceeding the minimum was undertaken. 2) Focus groups were held in Christchurch and Wellington with consumers who were in the process of residential building to understand their experiences. 3) Semi-structured interviews and an industry expert focus group were undertaken to gain an understanding of current industry messages and communication to consumers and to collect industry experiences of dealing with consumers about the issue of exceeding the minimum.
The research found that it is presently challenging for consumers to build beyond Code with respect to higher-performing houses. This was due to inadequate information, a lack of confidence and trust in building professionals and some cultural bias concerning the perceptions and experiences of housing and the Building Code. The report outlines a number of strategies to encourage consumers and industry to build higher-performing houses that exceed the minimum.
Product Information
| | |
| --- | --- |
| Publication date | December 2018 |
| Author | Casimir MacGregor and Elaine Donovan |
| System number | SR402 |