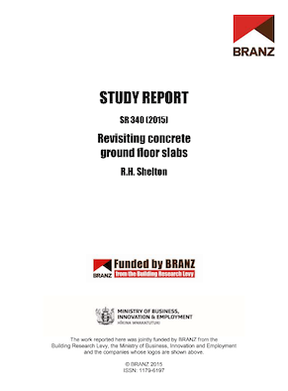 SR340 Revisiting concrete ground floor slabs

(2015)
Product Description
This research was initially to gain an understanding of why concrete ground floor slabs crack as a result of concrete drying shrinkage. The hypothesis was that, by reducing or mitigating the effects of drying shrinkage, the current procedure of cutting the main structural member of the building into smaller sections could be eliminated. This would result in cost savings and substantial improvement in performance.
The study measured restraint to shrinkage movement generated by underslab friction and the perimeter edging, therefore enabling analytical studies of real slab shrinkage to be undertaken. It was found that concrete stresses caused by direct shrinkage were considerably less than those caused by curling due to differential shrinkage between the top and bottom of the slab.
The project also investigated a potential reduction in curling stresses by introducing a drainage layer under the slab. This showed that the drainage layer was unable to provide the required drainage path, and curling was essentially the same as the control slabs.
The overall conclusion of the project was that minimising shrinkage cracking was only possible by good concrete mix design and good workmanship, which are well documented already. Proprietary methods of reducing shrinkage such as shrinkage-compensating cement, shrinkage-reducing admixtures, steel-fibre reinforcing or post-tensioning were not investigated in the study.
Product Information
| | |
| --- | --- |
| Publication date | 2015 |
| Author | R Shelton |
| System number | SR340 |