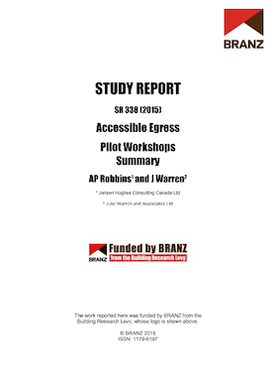 SR338 Accessible egress: Pilot workshops summary

(2015)
Product Description
This project addresses three interrelated issues in the New Zealand context of accessible means of building egress:
Egressibility.
Demographic, technological and social trends.
Lack of sufficiently nuanced building user characteristics data and other information.
The results from a series of pilot workshops are summarised and analysed in relation to the current New Zealand Building Code, standards requirements and documented guidance.
The results indicate that the issues related to occupant egressibility expectations and experiences include the following:
Assumptions of areas of refuge being located at all/any stairs or in front of all/any elevators. This may lead to individuals needing to be searched for or overlooked and leads to inconsistent identification of areas of refuge and instructions for use.
The need for consistent training of wardens.
The need for familiarity of users and operators with evacuation assistance devices.
A general level of misunderstanding about some fire safety systems and how they work, however there being a generally positive view of their presence. For example, believing a sprinkler system operates throughout a building based on a misrepresentation in movies and other entertainment may cause undue worry.
Product Information
| | |
| --- | --- |
| Publication date | 2015 |
| Author | AP Robbins and J Warren |
| System number | SR338 |