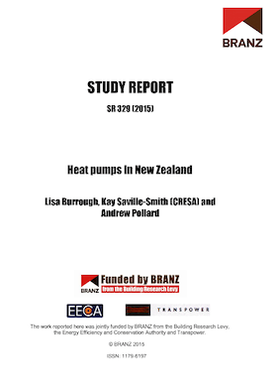 SR329 Heat pumps in New Zealand

(2015)
Product Description
There has been a dramatic increase in the use of heat pumps over the last 15 years. This study examined a random sample of 160 households in New Zealand with heat pumps.
This study included site inspections, surveys with the householders and a year of data collection of heat pump energy use as well as the achieved indoor temperature and humidity conditions.
Overall, there was a very high degree of satisfaction within the householders. Over 94% of them would recommend a heat pump to their friends or family. Over three-quarters of them found them convenient and easy to use. The survey also found 42% described the heating performance as excellent. However, only 15% described the running costs as excellent.
Product Information
| | |
| --- | --- |
| Publication date | 2015 |
| Author | Lisa Burrough, Kay Saville-Smith and Andrew Pollard |
| System number | SR329 |