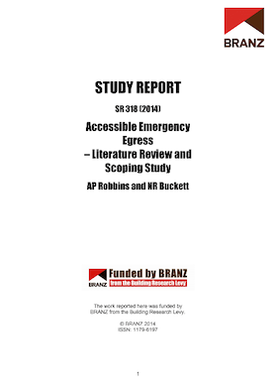 SR318 Accessible emergency egress - literature review and scoping study

(2014)
Product Description
There is little quality data available surrounding the emergency building egress characteristics of the New Zealand population. What is available is not well defined, in terms of holistic metrics of the performance of the occupancy group, for use in performance-based design and assessment. Furthermore, actual emergency data is not as readily available as other data sources while less directly related data sets (e.g. from drills or controlled laboratory experiments etc.) are already utilised.
Metric values that are currently available in the literature related to emergency egress are sourced from controlled experiments with or without elements of a fire, announced evacuation drills and fire incident case studies. Actual emergency data is most desirable and might provide the most realistic predictor of behaviour, however it is not as readily available as evacuation drill data or controlled experiments.
Influences that may bias the data sets must be taken into consideration when using the values in a modelling context and the subsequent analysis of the results. Variations in data sets have been found in studies using comparable occupant descriptions in comparable settings. Therefore, the source of the data sets and the influence of the potential variability of the data sets must be taken into account for each intended application.
There is the potential to utilise a wider range of characteristic metric data sets that are already collected for our communities for a diverse range of reasons other than emergency egress. Collation of this diverse data on the characteristics of our population and its subsets into metrics may provide a clearer description of the distribution of capabilities in order to inform emergency building egress. One way to do this is to take a snapshot of related characteristics from a collage of metrics collected by others to describe the characteristics of their respective interest groups.
Product Information
| | |
| --- | --- |
| Publication date | 2014 |
| Author | AP Robbins and NR Buckett |
| System number | SR318 |