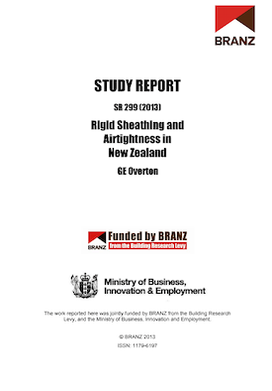 SR299 Rigid sheathing and airtightness in New Zealand

(2013)
Product Description
The use of rigid sheathing is increasing in New Zealand construction. Rigid sheathing (or rigid underlay) is now mandatory for NZS 3604 style construction in extra-high wind zones, and there is anecdotal evidence of rigid sheathing increasing in popularity for practical reasons as well.
This study measures the airtightness of six wall specimens with different configurations of underlay, including battened plywood sheathing. It is shown that walls with rigid sheathing are likely to be more airtight than current typical construction, where the interior lining acts as the main air barrier.
About a third of new homes are underventilated, and so any further increase in airtightness will also increase the need for supplemental ventilation in New Zealand homes.
The decision to make rigid sheathing mandatory in extra-high wind zones is supported by results from this study, which show that screw pull-out can occur in the field of the interior lining at a total pressure of 900 Pa for walls with rigid sheathing. Rigid sheathing is calculated to increase this pressure to 1650 Pa.
Product Information
| | |
| --- | --- |
| Publication date | 2013 |
| Author | GE Overton |
| System number | SR299 |