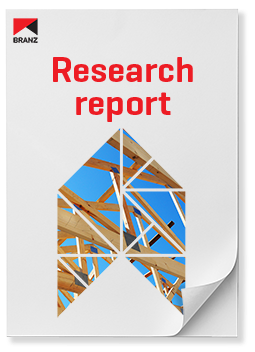 SR246 Optimal design of timber framing in housing

(2011)
Product Description
The quantity of framing in New Zealand housing is often stated to be excessive compared to Australian housing. The study examines if and where timber quantities could be reduced and the cost implications of doing so. The components considered include dwangs, interior walls and junctions where timber is used for non-structural reasons.
The study also examines timber floor layouts in NZS 3604, including floors on sloping ground and the cross-over point between benched slab construction and timber pile construction.
The report examines the areas for potential saving in timber framing volumes in new housing. The components considered are studs, dwangs, top plates and internal walls. While some savings are available using the framing standard NZS 3604, the cost savings are quite small. A case is made that the reverse should apply and that designers should consider using larger sizes than 90 mm studs to improve the installation and performance of wall insulation.
The project also examined various timber flooring arrangements that are feasible with NZS 3604, including costs and how they compare with concrete flooring.
Product Information
| | |
| --- | --- |
| Publication date | 2011 |
| Author | J Fung and IC Page |
| System number | SR246 |