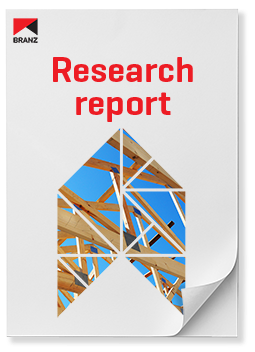 SR234 Investigation into the performance of brick veneer walls installed with urea formaldehyde foam insulation - a case study

(2010)
Product Description
Work to evaluate the properties of urea formaldehyde foam insulation (UFFI) and the effect UFFI has on the moisture management processes within brick veneer construction has been completed. This work examined the tendency for water running down the inner face of a brick veneer wall to be transported across cavity fill insulation to the position of the wall wrap.
The results indicated that the foam fill in the water-managed cavity has provided drainage paths to the wall wrap position and so does not meet New Zealand Building Code criteria in that there should be no systemic water bridging from the back of the cladding to the wall wrap position.
Further work to monitor the humidity and timber moisture content of cavity-filled brick veneer walls has also been completed. The results indicate that the drying of the timber framing after UFFI installation is a slow process with timber moisture contents still above the pre-UFFI levels several weeks after installation.
Product Information
| | |
| --- | --- |
| Publication date | 2010 |
| Author | MJ Bassett, I Cox-Smith, ME Hearfield, MS Jones, S McNeil, NJ Marston and GE Overton |
| System number | SR234 |