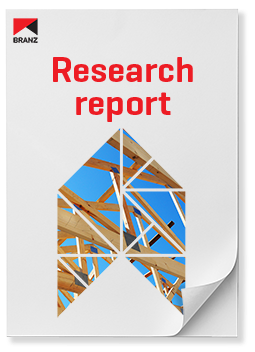 SR190 Seismic performance of brick veneer houses: Phase 2 - shake table tests on a clay brick veneer specimen

(2008)
Product Description
This is the third BRANZ investigation of a series looking into the seismic performance of brick veneer. The first two investigations were slow cyclic tests of full-scale veneer specimens where the veneer clad a rectangular room, which had both window and door openings.
The quality of brick veneer construction has improved markedly in recent years, with requirements for the ties to be screw-fixed to the timber framing and with the advent of lighter bricks with vertical penetrations. It is considered that the veneer may no longer be just a driver, but rather that it may have some lateral load-resisting capability.
The complete study is intended to improve the understanding of brick veneer construction in earthquakes, in particular:
to determine if brick veneer can be relied upon to carry most of the building seismic load or whether the building light timber-framed construction should be designed to carry the entire load
to identify the damage that can be expected in modern brick veneer construction.
Product Information
| | |
| --- | --- |
| Publication date | 2008 |
| Author | SJ Thurston and GJ Beattie |
| System number | SR190 |