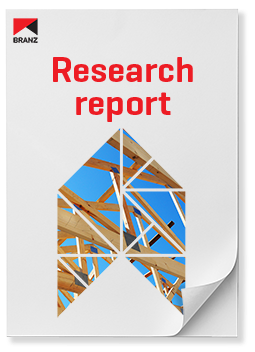 SR189 Seismic performance of brick veneer houses: Phase 1 - cyclic and elemental testing

(2008)
Product Description
This is the first full-scale investigation of the performance of clay brick veneer houses when subjected to simulated seismic loading.
In the 1990s, an investigation was conducted of the out-of-plane performance of New Zealand brick veneer construction, and out of that study came the standardised requirements for brick veneer ties to be screw-fixed to timber framing. A second requirement was that the ties were required to be fully encapsulated in the mortar joint. Further investigations were conducted in the early 2000s, which concluded that full encapsulation of the ties was not necessary and the ties remained well bound when seated directly on the top of the brick.
The current study is intended to improve the understanding of the performance of brick veneer construction in earthquakes, in particular:
to determine if brick veneer can be relied upon to carry a part of the building seismic load or whether the building light timber-framed construction should be designed to carry the entire load
to identify the damage that might be expected to occur in modern brick veneer construction, particularly at building corners where the face-loaded and in-plane loaded veneers meet.
Product Information
| | |
| --- | --- |
| Publication date | 2008 |
| Author | SJ Thurston and GJ Beattie |
| System number | SR189 |