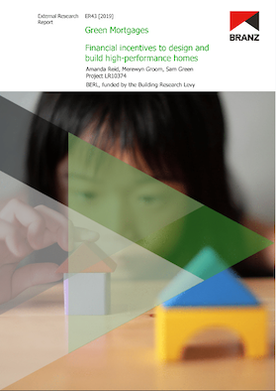 ER43 Green mortgages: Financial incentives to design and build high-performance homes

(September 2019)
Product Description
This research forms part of BRANZ's Exceeding the minimum programme. It considers how the New Zealand banking sector can lead the way in financing mortgages and home loan packages that consider building integrated features in high-performance homes.
Integrated features are defined in this research as features that are not typically included in a dwelling but add to its environmental performance and the health and wellbeing of its occupiers. Many building integrated features are good practice and lift the standard of the residential dwelling beyond the Code. They include features related to:
thermal/energy efficiency
accessibility
ventilation
water.
Product Information
| | |
| --- | --- |
| Publication date | 1 September 2019 |
| Author | Amanda Reid, Merewyn Groom and Sam Green |
| System number | ER043 |