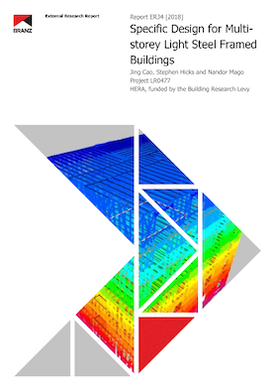 ER34 Specific design for multi-storey light steel-framed buildings

(November 2018)
Product Description
The project looks at the feasibility of light steel-framed (LSF) multi-storey residential building structures in New Zealand's Greater Auckland region.
The research was comprised of four work packages (WPs), addressing critical technical issues for such building types to be accepted in New Zealand market. It covers fire performance, seismic performance and cost estimation for an importance level 2, 6-storey LSF residential modular building with an 18 m total height and plan of 16 x 19 m.
The work packages were as follows:
WP1 – Fire performance of LSF floors in multi-storey residential buildings.
WP2 – Performance of stud-to-bottom plate joints in multi-storey residential buildings.
WP3 – Development of bracing solutions for LSF multi-storey residential buildings.
WP4 – Cost for an exemplar 6-storey LSF building.
Product Information
| | |
| --- | --- |
| Publication date | 1 November 2018 |
| Author | Jing Cao, Stephen Hicks and Nandor Mago |
| System number | ER034 |